Anyone with an interest in history, and appreciation for the grandeur and stylish decors of the Turn-of-the-19th Century, could fall in love with Bonnie's Mahogany Room. Most of the seating on the dining rooms main floor are the opera chairs once belonging to the prestigious 1894 Oak Park Club. The warmth and comfort of the entire hundred-seat dining room is enhanced by its rich mahogany paneling and glass enclosed cabinets displaying collectables and antiques from a bygone era. While one of Bell's wooden telephones and Singer's 1890 sewing machines can still be seen, they're no longer in service. Yet setting on the upper-balcony, beneath the forty-foot spindle supported plate rail displaying it's 19th century treasures, stands Bonnie's player piano, that still plays with the same rich tone as it did in 1901, either mechanically or by the touch of an accomplished pianist.
Words like one-of-a-kind, authentic and genuine, not only describes The Illinois Billiard Club itself, but it's furnishings and museum artifacts as well. Surrounded by the elegance and charm of back-lit etched glass and mirrors, sculptured wooden cabinetry and elevated mahogany opera chairs dating back to the 1800's … eight antique billiard tables representing three generations of American craftsmanship still stand ready to administer another hundred years of billiard diversity … ranging from entertainment, national and world class competition, to a widely sought after, mental and physical relaxation. Softly lit glass enclosed cabinets display original historical billiard documents, books, photographs, and hundreds of billiard treasures dating back to our nations first recorded public billiard tournament of 1863. Priceless to the educated collector of both photography and billiard treasures alike, is the first and only known photograph of the father of American billiards, Mr. Michael Phelan, seated amongst our nations first recorded professional tournament contestants and governing body of American billiards … an original photograph, taken by the studio of yet another illustrious American, the Civil War photographer and father of modern photography, Mr. Mathew Brady.
Nearly a century ago, Mr. William Frederick Hoppe, 52 time billiard champion of the world, at a time when the game was at it's peak, began recording his illustrious and enduring career, when assembling his personnel scrapbook. Hoppe, for his entire life was respected by his opponents, loved by every fan, and profoundly admired by all of those that knew him … simply as a man. As the number of his championships grew, so did the size of his book … and his legacy. For nearly a quarter-century, The Illinois Billiard Club has been the custodian of Mr. Hoppe's personal scrapbook … The Holy Grail of American Billiards. While the books monetary value is enormous, it's historical significance to the integrity of American billiards is even greater. To help maintain accuracy of the history of American billiards, the 140 page book itself, measuring some 18 inches wide by 24 inches top-to-bottom, has been made available by the IBC to other reputable historians, yet this national treasure has most appropriately been preserved in the clubs bank-vault. However, as a memorial to the great behemoth himself, and as a reflection of Hoppe's inspiring 46 year and life long career, several pages and historical documents from his personal scrapbook are on public display in the clubs museum. Elected the 20th Century's absolute best billiard player and "King of American Billiards," Hoppe, not only outlasted most all of his competion and various forms of billiard games that he once dominated, but also, the number of years in which he reigned as champion of the world, has yet been equaled in all 150 years of recorded American billiards … even today, some 42 years after his death.
Using a billiard table as H. G. Wells "Time Machine," at the young age of 15, young William Hoppe was sent off to Paris, where after winning without one single loss, the Young French Masters in 1902, he also gained his first European title; Jeune Maitre Champion of France. This was more than a year before mankind witnessed the Wright brothers first 30 second flight, and with it, the birth of aviation. In 1906 he returned to Paris, this time at the age of 18 Hoppe won his first professional world title and crowned, 'Champion of the World.' A youthful achievement never before or since accomplished in the entire recorded history of world billiards. Nearly a half-century later, in 1947, aviations technology emerged to new heights and incredible speeds when our nations airplane, the Bell X-1, broke the sound barrier and smashed all world records … Hoppe was there, the same year he won his 47th world title!
An even more incredible gauge to his seemingly timeless roll as world champion, and if by divine intervention, Father Times favorite son, after retiring as champion of the world when winning his 52nd world billiard title in 1952 … just a brief 10 years later, the entire world watched as a young American astronaut by the name of John Glenn soured into outer space to establish our nations first orbit around the world. The world William Frederick Hoppe reigned, nearly uninterrupted for more than 46 years while accumulating his 52 titles as, "Billiard Champion Of The World." A title he first achieved at the dawn of American aviation, and a title he retired with a few short years before humankind's first extraterrestrial flight … that like Hoppe himself on February 1, 1959 … began exploring the heavens.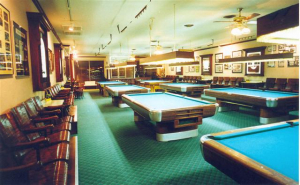 Billiard Club
The Illinois Billiard Club (IBC) was founded in 1973 and has operated as a private, members-only billiard club and virtual living museum of billiard collectables dating back to the 1850's. Membership currently open to players of all skill levels.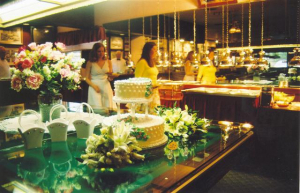 EVENTS & PRIVATE PARTIES
For banquets, private parties, and most all family or corporate gatherings, the independent or combined use of the Illinois Billiard Club and Bonnie's Dining & Banquets facilities offers a unique experience not to be missed!