BANQUET AND PRIVATE BILLIARD CLUB PACKAGE
Who and what we are … Collectively for over 78 years we are two separate entities uniquely designed under one roof – a public banquet facility and private billiard club that either of which (independently or collectively) host four hour small to mid size planned parties and special events to accommodate 20 to 100 guests. Unique special events ranging from traditional family celebrations of life (Anniversaries, Graduations, Birthdays, Showers, Weddings, etc.) to corporate team building meetings, school, church, fund raisers and community events.
Who and what we are not … We are not simply the all too typical restaurant, gaming arcade, pool room, bar room, banquet room or any form of traditional public place of amusement.
Our basic business philosophy that has largely led to collectively over 78 years in business …
"Keep away from people who try to belittle your ambitions. Small people always try to do that, but the really great ones make you feel that you too can become great." … Mark Twain
As for the billiards side of our business … "Now in its 49th year our private clubs requirement of a few hundred dollars in annual dues has fortunately proven to keep people of questionable character out. Yet in complete contrast, has encouraged people of proven integrity and honor to join in!"… Jim Parker
"Dinner and Billiards" or "Appetizer and Billiards" Packages:
Weekdays and Weekends … $35
Holidays … $40
---
Dinner or Appetizer Functions without use of the Billiard Club:
Weekdays and Weekends … $20
Holidays … $30
---
Tax and service charge applies to all situations.
Payment by cash or Check.
Optional use of each billiard table … $60 per table
BANQUET & PRIVATE PARTY MENU OPTIONS
Choice of any one entrée, salad, potato and vegetable.
Fresh dinner rolls and butter
Fresh ground coffee, tea or milk
Dessert – Ice Cream and Italian ice
---
Entrées
Beer Batter Fried Chicken
Beer Batter Tilapia
Hickory Smoked Ham
Oven Roasted Chicken
Oven Roasted Turkey
Roast Loin of Pork
Top Roast Sirloin of Beef Au jus (additional $6 pp)
---
Optional Appetizers offered with Dinner Package
Bonnie's Signature Baked Parma Bread – 2 Pieces pp … $5.00
Full Pan – 2 pieces pp … 24 pieces … $48.00
Beer Batter Fried Chicken Finger's … Additional $5.00 p.p.
---
Salads
Chef's Garden Fresh Tossed Salad
Caesar's Romaine and House made Croutons, Add $2.00 p.p.
---
Potatoes
Sour Cream & Butter Whipped Potatoes
Baked Idaho with sides of Sour Cream and Butter
Bonnie's Signature Cranberry & Pecan Dressing
Fresh Sweet Potatoes with Orange Butter Glaze
Lightly Seasoned Oven Roasted Potatoes
Skin on French Fries
---
Vegetables
California Medley, Buttered Corn Kernels
Mini Butter Corn Cobettes, Glazed Baby Belgium Carrots,
Green Beans with Sautéed Onion and Mushrooms.
---
Bar Options
Alcohol and bar charges are not included in menu prices and are
available as a tab or cash bar and quoted per function.
Four-hour charge per bartender $75.
Each additional hour – $20 per bartender.
---
Menu items and prices are subject to change without notice.
TAX, SERVICE CHARGE AND PAYMENT
Tax and service charge applies to all situations
Payment by cash or Check Only
Note: All menu items and prices are subject to change without notice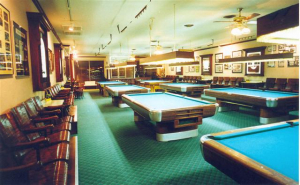 Billiard Club
The Illinois Billiard Club (IBC) was founded in 1973 and has operated as a private, members-only billiard club and virtual living museum of billiard collectables dating back to the 1850's. Membership currently open to players of all skill levels.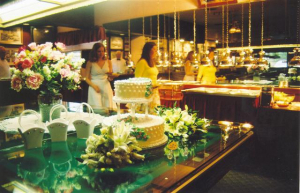 EVENTS & PRIVATE PARTIES
For banquets, private parties, and most all family or corporate gatherings, the independent or combined use of the Illinois Billiard Club and Bonnie's Dining & Banquets facilities offers a unique experience not to be missed!